Scouting for Food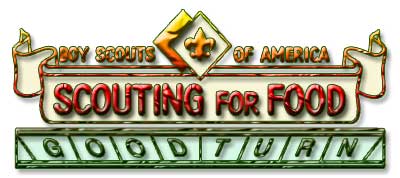 It's time, once again, for our yearly Council-wide Good Turn!
In the weeks/days leading up to November 16th units all over our Council will be preparing to collect non-perishables from generous folks in neigborhoods far and wide.
If you are a part of the Gold Country District, please contact ALisa Buell (209)566-7721 or Robin Wilson (209)566-7720 for special Scouting for Food instruction.
ALL OTHER DISTRICTS:
The Council now has door hangers that can be distributed along wtih paper bags (bags optional) during the week leading up to November 16th. These door hangers are proffessional-looking and even list suggested foods!
Follow the link below to register your unit for participation in this important service opportunity.
Please -- only ONE person per unit should complete the registration.