2016 Discount Card Sale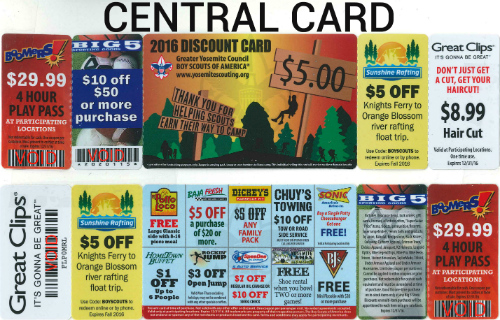 ---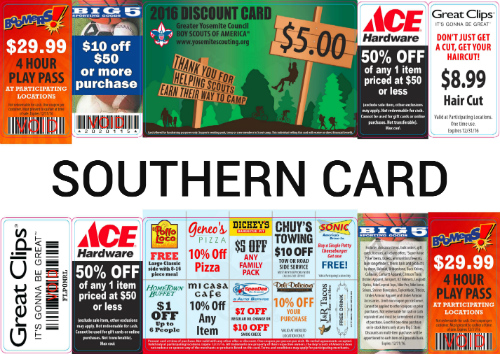 A Scout is Thrifty . . . they earn their own way to Summer Camp!
The greater Yosemite Council is pleased to announce the return of the "Discount Card," This initiative is designed to help Scouts earn their way to a summer/day camp program. Units participating in this program can earn up to 50% commission ($2.50) on each $5 Discount Card they sell.
The cards will be distributed during the month of March. Download and complete a Unit Commitment Form here.
---
The 2016 Card will feature the following vendors/specials:
Single Use:
Big 5 - $10 off a purchase of $50 or more
Sunshine Rafting Adventures - $5 off Knights Ferry to Orange Blossom rafting trip
Great Clips - $8.99 haircut
Multi-Use:
El Pollo Loco - Free large Classic Side with purchase of 8 - 16 piece meal
Baja Fresh - $5 off purchase of $20 or more
Dickey's BBQ - $5 off any family pack
BJ's Restaurant - Free mini Pizookie with $20 or more purchase
---
The sale will end on June 3 giving units nearly 3 months to sell and close out their accounts.
---
The Value of Selling Discount Cards:
1. Complete Uniform - $100 = 40 cards
5. Day Camp - $75 = 30 cards
2. New Tent - $150 = 60 cards
6. Summer Camp - $340 = 136 cards
3. NYLT - $200 = 80 cards
7. Troop Cook Kit - $80 = 32 cards

4. Pinewood Derby Track - $1,000 = 400 cards

(40 Scouts each selling 10 cards)

8. Troop Trailer - $5,000 = 2,000 cards

(40 Scouts each selling 50 cards)
---