Welcome to the HANDBOOK HAVEN!
Hopefully all your questions regarding the new Boy Scout Requirements and Handbook will be answered RIGHT HERE!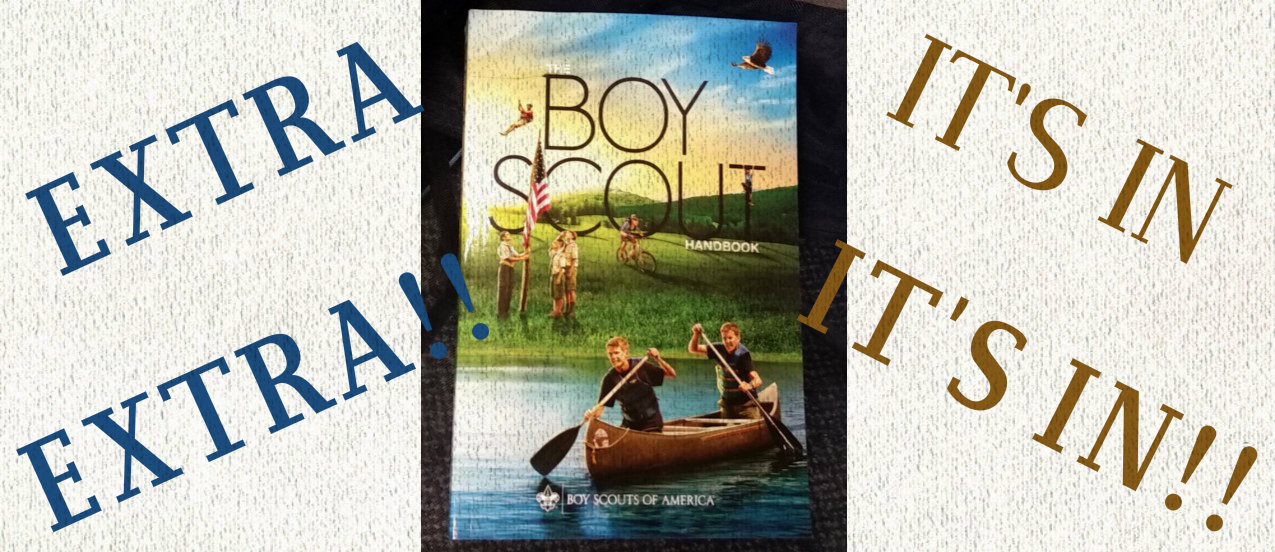 When will the new handbook be in?

It's in NOW - still waiting on the spiral bound, though. The retail price for the "perfect bound" is $14.99.

Do I HAVE to get the new book if I already have the previous edition? Don't throw out your current handbook with all its valuable signatures and dates! We have an interim solution for you - download this printable insert and voila!
I'm currently working on a rank...do I switch gears and start using the new requirements for that rank???

Well, it depends upon which rank you are currently working...

?New Scouts who just joined in 2016 need to use the NEW REQUIREMENTS...better get that new book!

Those working on Tenderfoot through First Class may continue under the old requirements but convert to the new requirements one they reach Frist Class...hang onto your current book!

Those who are already First Class and above may complete your current rank (i.e., Star or Life) but then you must convert over to the new requirements after that.
EVERYONE must use the new requirements beginning January 1st, 2017, no matter what rank you are at that time.

Is there a handy-dandy printable document that will answer all these questions and more? Yes! Yes, there is! Download here.
What exactly ARE the main changes? It would be nice to see the previous requirements and the new requirements side by side... Welllll, we just so happen to have a Side-by-Side Comparison Document - warning, it's lengthy! Probably a good one for the Unit's Advancement Chair to have...
---
Other Boy Scout Advancement changes links:
US Scouting Service Project - Boy Scout Advancement Requirement Changes