Downloadable Version of Report
PRESIDENTS REPORT TO THE MEMBERSHIP Of the GREATER YOSEMITE COUNCIL, BSA 2019
Dear Members, Supporters and Friends of the Greater Yosemite Council, Boy Scouts of America.
I hope that your holiday season was filed with joy, and the love of the season, and that all were blessed with the care and compassion of our families.
Much has happened at the Greater Yosemite Council in 2019, and as 2020 starts we are looking at a new beginning. A beginning that is filled with success for the building of character and citizenship in the Scouts of our Council.
LEADERSHIP CHANGES
In September, our previous President resigned. On October 4, our Previous Scout executive left the employ of the Council and the Board elected me to be your new President. My qualifications to lead the Council include that I was previously this Councils President for 2 years, have 61 years of membership in the BSA, have been a unit leader for over 25 years, have 26 years as member of the National BSA Board, 25 years as your Commodore of Area W-3, and have 33 years' experience on this Councils Board.
I am very much looking forward to working with all members of the Council to improve our Council and provide a quality program for all our Scouts.
FIRESIDE CHATS IN NOVEMBER
In November I had the chance to participate in a "Fireside Chat" in each of our District meetings. I explained what was currently happening at the Council and responded to questions and complaints about how our Council was working. The three fireside chats came up with the same two issues. The first issue was that the membership felt that there was insufficient communication from the office. The second issue was the fear that Camp McConnell would be closed. I also explained why there were ongoing problems with Camp Mensinger and what was needed to be done at that camp.
CAMP MENSINGER
The issues around Camp Mensinger were complicated. As a result of looking at all the issues, the Board decided to '(mothball" Camp Mensinger for the year 2020. As this is an emotional issue for many of our members, a further discussion of the various issues that caused the board to make this decision are below.
Camp Mensinger is a reasonably large camp. It has the capacity of handling between 2,000 and 3.650 campers during the camping season, for one-week sessions. The difference in capacity is based upon how many people can be crammed into the dining hall at any one time.
In 2018, our Board signed a Memorandum of Understanding (MOU) with the San Francisco Bay Area Council, BSA (SFBAC) to operate both Camp Mensinger and Camp McConnell in 2019. In this agreement, GYC would pay SFBAC a fee of $15,000 up front, to operate both camps. SFBAC would keep all profits up to $250,000, and from that point on, the profits would be split between GYC and SFBAC.
Sadly, Camp Mensinger only served 191 Scouts from our Council in 2019. Out of the 191 Scouts,
109 were from LDS units. This left us with only 82 Non-LDS Scouts attending Camp. Since the LDS church had already announced that they would be leaving Scouting at the end of 2019, the number of Scouts that had attended the Camp assured the Council of a financial disaster should it open in 2020.
In 2019, our Council lost $60,000 in the operation of Camp Mensinger. This is not a complete total as the full amount cannot be determined until an inventory is made of all the Trading Post items, however it is within $2,000 either way.
In 2019 the SFBAC lost over $100,000 in the operation of Camp Mensinger, and this included the $15,000 that GYC paid them to operate the Camp.
The SFBAC did intend to renew the MOU that allowed them to operate both camps, HOWEVER, they did not intend to operate Camp Mensinger. Their plan was that they would receive our payment of $15,000 and then they would hope to lease the camp to the LDS church for the sum of $9,000 per week. Keep in mind that the MOU required our Council to Pay all "capital" expenses, which were described as an expense over $500. Had the MOU been implemented, this would have guaranteed our Council a significant loss.
Our Board did authorize the renewal of this MOU, however due to the resignation of our previous President and our previous Scout Executive leaving our employ, the agreement sat on my desk at the Council, until I found it one day while looking at what issues were outstanding.
In the meantime, our Chief Scout Executive had sent a letter to all Council Presidents of "LDS Impacted Councils" (defined as any Council that had more than 35% of their membership from an LDS Church sponsored unit, which we were) forbidding them from making any contract without the specific approval of the BSA legal department. Therefore, I was prohibited from signing that agreement. As a result, the MOU expired by its own terms.
At the time that the Board decided to renew the MOU with the SFBAC, the amount of losses was not known to them. In November, when the amount of losses incurred along with the abysmal attendance was known, but Board voted to Mothball Camp Mensinger and wait for a better day to consider reopening the camp.
WHAT WILL IT TAKE TO REOPEN CAMP MENSINGER?
Your Board understands camping is integral to the Boy Scout program. However, we do not have the financial resources to lose money in operating a camp, like we did this year. To determine what it would take to reopen Camp Mensinger, we must dig a bit deeper to understand why the Camp failed so badly financially. There are two main issues. The first issue is that 60% of all our Boy Scout units do not go to our Camp. They have decided that they want to go to other Councils Camps. This has been the case for decades, and so it should not be a surprise to anyone. As a result, our own demand for Camp Mensinger to be open at all is very low.
The second reason is a decline in units active in the Council. When the Forty Niner Council (Stockton Council) merged with the Yosemite Area Council (the Modesto Council) there were approximately 550 units with over 17,000 members (this included learning for life membership). As of January 1, of 2020, we will have around 151 units after almost 100 LDS units close and stop their Scouting.
Therefor, to get Camp Mensinger active, we will need to be able to guaranty that 800 or more Scouts will attend the camp, and we will need $500,000 in cash, to make necessary improvements to the shower, pool and toilets. As soon as we can achieve those goals, then the reactivation of Camp Mensinger will begin.
Keep in mind though, that both Fresno, and San Jose Councils have invested heavily in their camps, and this may well be the reason that 60% of our Boy Scouts did not go to Camp
Mensinger. Also know that Camp Mensinger will deteriorate if unused for any significant period. This will probably mean that we would need much more than the previously mentioned $500,000 to get the camp running again.
CAMP McCONNELL
In 2019, our program at Camp McConnell, was poor. We had only 51 Cub Scouts attend summer camp there. There was a tremendous amount of "deferred maintenance" at the camp, which included an inoperative pool.
The feedback from the three fireside chats with the Districts was that they were very concerned with the possibility that this camp would be closed as well.
Please know, that the Board knows of these feeling and is supportive of getting Camp McConnell back to its glory days and become the "PREMIER Cub Scout Camp" in California. We had a donor contribute over $60,000 to getting the camp going again, and the Board authorized another $60,000 to get the ball rolling. As of January 1, I can report that:
The $63,000 tree trimming, and removal project is half done, and should be finished by February 1.

The $18,500 electrical repair and LED conversion project is 75% done and should be completed before Jan 15.

The $33,000 pool repair project is about halfway done, and we expect to have it finished by April 1.

The Septic Tank project has started, and it expected to be finished by mid-January.

The plan to exterminate our ground squirrels and gophers that have burrowed all over the property has not started, and because of that the lower grounds are closed to the use of all Scouts. The project should start in a few weeks, and we hope to have the holes that are all over the property closed by mid-February.

Two out of our three "junk trucks" have been disposed of. We are still deciding what to do with a van that is Council Property.

The fence that was destroyed by an accident has been replaced.

The well was repaired but needs more work to finish the job.
With these repairs, we are about halfway to achieving all that needs to be done at Camp McConnell. With these projects complete we can operate the camp reasonably well, but we are not done. Other Council projects that need to be done include
Replacement of the Ranger house. Cost is $70,000

Repair or replace two roofs on the outbuildings and inspect the roof at the lodge

Improve the trading post area.

Determine if our BB gun and Archery ranges are adequate or if they need upgrading.

Inspect and repair all facilities that may not otherwise be suitable for family Scouting.
Projects that the volunteers can do include
Painting the WOOD portions of our buildings. Please do not paint bricks, or stones.

Weed removal from all over the grounds.

Help with any upgrades necessary to implement the previously discussed program facilities.
Basically, Camp McConnell is well on its way to achieving the goal of becoming the Premier Cub Scout Base in California. It will take a bit more time, more money and a lot of volunteer input until the time that we can declare this project finished, but for a short period of time, I feel that we have made excellent progress. I also feel that this has addressed the stated fears of the membership that Camp McConnell might be closed. It most certainly will not be.
OFFICE
Our Modesto office is now 22 years old and there are some items that need to be repaired. To date, we have finished the following
The LED replacement project is finished including all exterior lighting

The overgrown trees and landscaping have been removed

The office computers which were obsolete have been replaced except for the server, which will be replaced in January.

Most of the contracts at the office have been reviewed and we have made changes to some of them to save on office expenses.

We have terminated our contract for shredding of documents and bought an industrial strength shredder.
Projects that are unfinished include
Replacement of one air conditioning unit that has failed.

Replacement of plants in our planters

Fixing our irrigation system

Reserving funds for the replacement of the remaining 4 air conditioners that are at the end of their service life.
Projects that our volunteers can do include
Cleaning the gutters that are full of leaves and causing leaks inside the building.

Giving our building a bath

Getting rid of junk that is in our storage building such as an old couch and old records.

Fixing the lawn on the back part of the building.
PLAN FORWARD
In November, we concentrated on getting the facilities up to our standard and making sure that those facilities could take care of our program. Now, we are moving on to the nuts and bolts of Scouting. The issues that we have, and the solutions are below;
LACK OF FUNDS
We have had a poor record of fundraising over the last two years. Our previous Scout Executive tried to solve that problem by laying off personnel. As a result, we are short of employees, as well as cash. To solve that problem, we are doing:
We will not replace the Scout Executive in 2020. The Scout Executive operates as the CEO of the Council and as a result is the highest paid employee. I have agreed to be the CEO of the Council for 2020, and thereby save a substantial sum of money. My business experience that would be relevant to operating the Council is that I have been the CEO of my own companies for 44 years. At my peak, I had over 3,000 employees, and feel that a business the size of a Council is not that much of a challenge, business wise.

Our Vice President of Fund Raising recently resigned and we have switched VP Don Parsons to that job. Don is an experienced fund raiser and political consultant outside of his Scouting job. His area of work will be to raise $200,000 by putting on 4 or more Special Events.

Our FOS program has already started for 2020. We have asked our VP of Administration, Mr. John Drebinger, to take charge of our FOS campaign for the units.

I will continue in my efforts to raise funds from Major Donors. Recently, over $60,000 was contributed to the Camp McConnell restoration program.

I will be supervising the traditional donors to our program on an ongoing basis.
Please know that it costs about $1,000,000 per year to operate this Council at its current level. Around half of this amount pays our employees, and the other half is used to do all that it necessary in any business and includes things like insurance, fees to the BSA, maintenance and repair, utilities, services such as our annual audit, bookkeeping, etc. Also, please know that as we increase in size our costs will go up.
MEMBERSHIP
With the LDS Church leaving Scouting, we lost almost 100 units on January 1. We need to replace those and get back to the 550 units that we had at our merger date as soon as possible. The increased membership allows us to make larger plans, have better use of our facilities, and most importantly, builds character and citizenship in many more young people. We need to add 350 traditional units to our council over the next 5 years. This will require that we add 70 new units every year for each of the 5 years. To do this we have done:
The job of our District Executives has been changed a bit. Now, 50% of their job is new unit development. Fund raising will take 35% of their job, and unit service will take the remaining 15%. This does require more volunteer support to the units.

I have asked our Council Commissioner to see how much support our unit Commissioners can be to start new units.

I have asked a few dedicated volunteers to step up to the bar and start new units.

We have started the project to acquire new software from Microsoft, which is free to Non-Profit companies like ourselves, that will enable us to track every single school, service club, church, civic group, or even companies that may sponsor or support our Scouting program. The program is called "Microsoft 365" and it is classified as a CRM type of software. We hope to have it customized for our needs and operational by March. This software will allow us to track the efforts of our DE's and volunteers that are out representing Scouting and provide us with a permanent record of what was accomplished.

We are looking at hiring DE's who do nothing but start new units. The actual hiring of these people will depend upon our fundraising success.
PROGRAM
The importance of Program cannot be overstated as this is the essence of what our youth join for. Our VP of Program, Brian Osterhout is working with his Camping Committee to provide that program for all the divisions of Scouting.
For the Cub Scout program, we are working on providing not only the best camp in Camp McConnell, but the best Cub Scout program in any camp in the state there. In addition to the more traditional type of events and training, we are exploring new avenues that can be used to not only advance the Scouting program but to put the Scouting program out in front of the community on a (hopefully) regular basis. Items under consideration include:
Expanding the BB gun shooting program to include district championship, and Council Championships. We may even decide to challenge other Councils best teams in those areas to see if we can develop a contest that it interesting and exciting for all.

Expanding our Archery activities in the same manner.

Expand our Pinewood Derby races in the same manner, perhaps with prizes to the family that wins the Council Championship.

Cub Scout day cruises on our Councils Sea Scout Ships, with a trip through the Port of Stockton and down the San Joaquin River.

Continuation of our evenings with the professional sports teams in our area. This includes our upcoming night with the Stockton Kings basketball team, the Stockton Ports Baseball team, and the Stockton Heat, Ice Hockey team.

Continue with Cub Day camp in the major cities in our area of operation.

Re start overnight Cub Camping at Camp McConnell.

There are other proposals pending as well.
For the Boy Scout program, we will make certain that all our Boy Scouts that want to go to Camp, will be accommodated. There is a surplus of space in the Camps in our Area, and we do not anticipate any issues at all in getting our Scouts into a camp, and most likely, the camp of their choice.
For other activities, we will continue with the traditional training, including Merit Badge Midways, First aid and CPR training, as well as all the traditional training. Areas that we will explore expanding are the High Adventure camps and programs, and special events such as tours to the various ex-Military ships that have Scouting programs.
In Exploring, Venturing and Sea Scouts, we have not spent much time in those areas, YET. But we will.
MARKETING
The first concern at the fireside chats was a complaint about a lack of communication from the Council. We hear you and we have already started with improving our communications.
VP of Marketing, Mrs. Kelly Osterhout, and her committee have already updated our Web site, and the three District web sites. A special thank you goes out to Jenni Long, who labored for hours to get those web sites up to speed. THANK YOU, JENNI!
We will also be sending out a newsletter, called an E-Blast, which is full of pertinent information. We have already sent out two of them, so if you are not receiving them, send an email to Robin Wilson at Robin.Wilson@Scouting.org and tell her that you want to have your email added to the list.
We will also be sending out "single purpose" email letters, such as this one, to all the membership and supporters of the Boy Scout program. Sadly, we have had functions that were not well attended, due to the failure of our communications. Hopefully, this problem is solved and the word about all the various things that we do will be spread throughout the Council.
I encourage you letting us know your thoughts about our program, facilities, or any other issue that comes to mind. Our goal is to achieve EXCELLENCE in all that we do. Without feedback, we might not be sure if we are succeeding or not. So, do let us know.
TRAINING
I am happy to report that our current training Chairman, Mr. Jay Herbrand, is the best that I have ever seen at his job. In case you might think that as President that I might get some slack if my training is incomplete. Well, you would be wrong. Not only did Jay tell me that my Youth Protection Training, was out of date, but that I had to take a course in Ethics to remain as your President. My immediate response was kind of a knee jerk reaction, with it going something like this "At this stage in my life, if I do not have ethics, I never will." Jay was patient with me, but I took the course, and yes, completed it too.
SUMMARY
To be fair, I should go through every one of our Board Members and our Executive Committee members and describe all that they have done, and are currently doing, on behalf of the Council. It would take a book to fairly document all that they have accomplished. Let me summarize it by saying that this is a highly motivated group of volunteers, who give of their time, money and expertise, to ensure that the benefits of Scouting are continued. I thank each and every one of them, for their service and the dedication. I also thank the donors, parents and supporters of the Boy Scouts for your help over the years, and your continued good will. Scouting would not be possible without you and your efforts.
Please know that your Board is motivated and excited to see the progress going on in our Council. We very much hope that you are as well.
I am very much looking forward to next January so that I can show all, what has been accomplished.
Yours in Scouting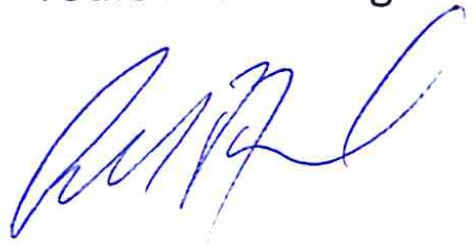 Robert L. French
President