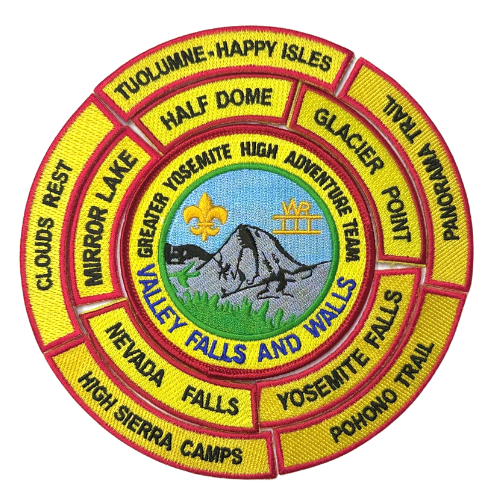 Yosemite Falls and Walls Patch Program encourage hiking and bring into the lives of our Scouts a "mountain experience". Some of these trips can be accomplished in a single day, some may take up to 6 days. The patch rockers are set up to be earned, one per trip, not multiple rockers in one trip. There are camping sites if your plans include an overnight experience. For Scouts BSA some of these activities can contribute to the Tenderfoot, Second Class, and First Class rank. The Backpacking, Camping, Hiking, Forestry, and Geology Merit Badges can also be incorporated into the hikes. Some of the longer trips may be more suited for the more experienced Scouts.
Patches may be obtained by completing and returning the Yosemite Falls and Walls Form to the Greater Yosemite Council Office.
Click on any of the images below to get details for each hike.