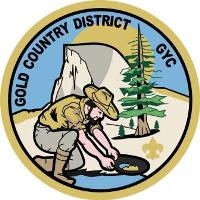 2014 Gold Country District Training Conference
Basic Leader Training / Leader Specific Training
This Training is for Pack, Troop, and Crew Leaders
Pre Opening: 8:30am
Training: 9:00am - 3:00pm
Cost: $6.00 (includes snacks, handouts and TRAINED patch)
Fee increases to $11.00 after October 22nd.
Please pass the word to other Scouting leaders. We don't want anyone to miss out on the fun!
Please wear your Scouting uniform, if available.
Cub Leader Basic Training
Packs: All Den Leaders, Assistant Den Leaders, Cubmasters, Assistant Cubmasters, Pack Committee Members
Boy Scout Leader Specific Training
Troops: Scoutmasters, Assistant Scoutmasters, Troop Committee Members
Scoutmasters, and Assistant Scoutmasters must complete this training, as well as the Outdoor Leader Skills course, to
meet the basic leader training requirements.
Committee Members, Interested Adults and Parents are invited to attend.
Venturing Crew Leader Specific Training
Crews: Advisors, Associate Advisors, Crew Committee Members